China's LED is now a (product) brand in the US market. A large number of OEM products make China's own products rarely accepted and recognized by the US market. Yesterday (March 25), at the LED industry exchange meeting, Yu Lingyun, chairman of the American LED Association, sent out such feelings.

As soon as the product leaves the port, it does not know where the product is shipped, nor who the terminal buyer is. Consumers are also unclear which one of these good products is produced. Yu Lingyun said.

Jin Mingshan, general manager of Shenzhen Si Kesai Optoelectronics Technology Co., Ltd. said that the company is a manufacturer of LED displays. It has been exported to the US market for seven or eight years, and some products are for the well-known American companies. But he concluded that although it has been in the market for so many years, the brand awareness is too small.

[img]/uploads/allimg/140326/22-1403261534262X.jpg[/img]

Zhou Yuguo, the person in charge of Shenzhen Ruituo Display Technology Co., Ltd., has the same feeling. He said that the company was founded in 1997 and has been in business for 17 years. The earliest Ruituo display is also an OEM, and it is no stranger to the US market.

In the US market, our exports are at a disadvantage. The so-called products are unlicensed. Our earliest exports are also cooperating with local companies in the United States, and even giving them OEM services, so the brand value and added value of our products. Basically not, we just work for others, that is, simple processing. He said.

Since there is no brand premium capability, a major criterion for middlemen to screen Chinese suppliers becomes price.

In fact, the US LED market access system is quite strict, with mandatory UL certification and selective ENERGY STAR certification. According to the reporter's understanding, for these certifications, whether the enterprise products can meet the certification standards is a problem, and the certification itself is time-consuming and costly.

As a result, some companies sell their products by lowering prices by not certifying or selecting other certifications other than UL.

Li Fan, chairman of Shenzhen Xin Liming Technology Co., Ltd. said that their company passed the UL certification in 2008, and now other certifications are basically completed, but our guests often call and say that our The price is several times higher than others, which is a bit of a distress.

Yao Tao is the general manager of Wuhan Quanhua Optoelectronics Technology Co., Ltd. He said that many small and medium-sized dealers have no way to accept the price of UL-certified products. They are more willing to choose some products that have basic certification, but may not be UL-certified, which is cheaper.

Overview of the UTECH CO2 Laser Engraver



UTECH Laser Engraver is the ideal Laser Engraving Machine - no matter if you are starting your own business or want to speed up current production, laser engraving wood, plastic, acrylic, fabrics and many other material has never been more efficient. This CO2 laser engraver has the highest quality components which ensures minimal maintenance requirements.




Features:
High speed USB offline control system
On this series of machine, framework is integrally designed,working stable, economic and practical type machine
New software completely compatible with AutoCAD, CorelDraw andothers
CAD, CAM, and various photo processing software, originallyphoto output directly
For engraved plate printing industry, based on original model,a function of full slope enables the easily-distorted parts such assmall words, barcode to become more durable
Its excellent printing effect and printing precision couldcompare with flexible version
Part of them could be replaced
Equipped with high precision ball screw and up-down workingtable
With smoke purifier system, little noise, the machine is thebest choice of the middle and small size home workshop
All trademarks shown here are for reference purposesonly. They are the property of their respective owners, and we arenot authorized to sell items bearing such trademarks.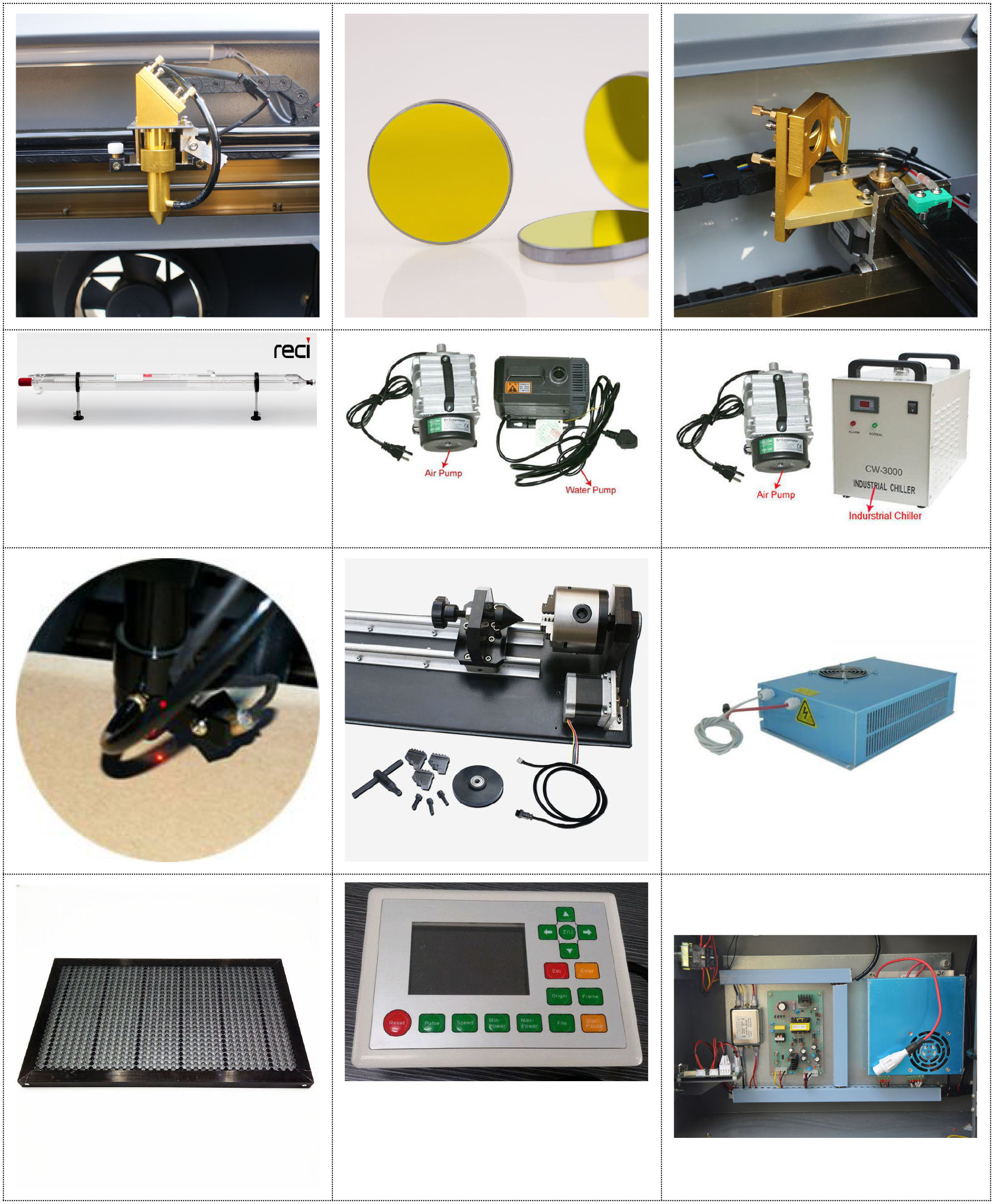 Technical parameters:
UT-6090/1290/1390/1325 laser engraving machine
Unique decelerate design make the mechanical system move stably and smoothly
Edge of cutting is smooth and there is no sawtooth
Software adopts continuous curve method to get faster cutting speed
Supply with CE certificate, FDA
Engraving area: 600*900mm/1200*900mm/1300*900mm/1300*2500mm, etc
Laser power: 60W (or 80W)
Cutting speed: 0 to 24,000mm/min (0 to 945 inches/min)
Engraving speed: 0 to 54,000mm/min (0 to 2126 inches/min)
Resetting positioning accuracy: ±0.05mm
Engraving accuracy: 0.025mm
Power supply: 110 to 220V AC ±10%, 50 to 60Hz
Gross power: <1,000W
Operating temperature: 0 to 45°C
Operating humidity: 8 to 95%
Minimum shaping character: English 1 x 1mm (0.039 x 0.039inch)
Graphic format supported: BMP, HPGL, PLT, DST, DXP and AI
Driving system: stepper, servo motor is optional
Cooling mode: water-cooling and protection system
Auxiliary equipment: exhaust-fans, air-exhaust pipe
Controlling software: DSP control system
Compatible software: CorelDraw, AutoCAD, Photoshop
Laser-type: sealed CO2 laser tube
Applicable materials: wood, bamboo, jade, marble, organic glass, crystal, plastic, garments, paper, leather, rubber, ceramic, glass and other nonmetal materials
Applicable industries: advertisement, arts and crafts, leather, toys, garments, model, building upholster, computerized embroidery and clipping, packaging and paper industry
We are offering free shipment by sea to some sea port, contact me now for detail information of the machine.




We also provide other Laser Machine with different working area and different function,
There must be a right machine for you:
Laser cutting and engraving machine: UT-4030, UT-6040, UT-9060, UT-1060, UT-1290, UT-1390, UT-1490, UT-1610, UT-1325, etc.
We've professional design team, any size and appearance is suitable for you, we'll can customized for you.




Laser Engraving Machine

Laser Engraving Machine,Cnc Metal Engraving Machine,Mini Laser Engraving Machine,Cnc Laser Engraving Machine

Shandong U-May CNC Technology Co., Ltd. , http://www.sesamecnc.com