Model NO.: Non-standard

Factory Price: Yes

Certificate: ISO9001:2008 , Ts16949

Technique: Cold Heading and Hot Heading

Application: All Industries

Product Grade: a

Trademark: JR

Specification: ROHS SGS

Origin: Shanghai

HS Code: 7318159090

Model NO.: Non-standard

Factory Price: Yes

Certificate: ISO9001:2008 , Ts16949

Technique: Cold Heading and Hot Heading

Application: All Industries

Product Grade: a

Trademark: JR

Specification: ROHS SGS

Origin: Shanghai

HS Code: 7318159090

Non-standard Full Thread  Philips Screw

1.Product Parameters

 
Standard:
ASME B 18.2.1, IFI149,DIN931, DIN933, DIN558, DIN960, DIN961, DIN558, ISO4014 and etc.

Size:

standard & non-standard, spport customized
Material:
 Carbon Steel, Alloy Steel, Stainless Steel, Brass and etc.
Grade:
 SAE J429 Gr.2, 5,8; ASTM A307Gr.A, Class 4.8, 5.8, 6.8, 8.8, 10.9, 12.9 and etc.
Thread:
 UNC,UNF
Finish:
 Plain, Zinc Plated(Clear/Blue/Yellow/Black), Black oxide, Nickel, Chrome, H.D.G and etc.
Packing:
 Bulk in cartons (25kg Max.)+wood Pallet or according to customer special demand
Application:
 Structural Steel; Metal Buliding; Oil&Gas; Tower&Pole; Wind Energy; Mechanical Machine; Automobile: Home Decorating and etc.
Test Equipments:
Desktop direct- reading spectrometer, cutting machine, automatic pre- milling machine, polishing machin, hard-testing gauge(Vickers), metallography microscope, electrolytic thickness gauge, tensile testing machine, salt spray device, magnetic detection machine(magnetic particle flaw detector), Caliper, Go&No-go gauge and etc.
Supply Ability:
 2000 tons per month
MinimumOrder:
  Not limited 
Trade Term:
 FOB/CIF/CFR/CNF/EXW/DDU/DDP
Payment
 T/T, L/C , D/A  , D/P , Western Union  ,MoneyGram ,etc
Market:
South&north Amrica/Europe/East&South east Asia/ Australia and Africa etc.
Our advantage:
One-stop shopping;
High quality;
Competitive price;
Timely delivery;
Technical support;
Supply Material and Test Reports;

Notice:
 Please lets know the Size, quantity, Material or Grade, surface, If it is special and Non-standard products, please supply the Drawing or Photos or Samples to us
2..Company Information

Shanghai Jinrui Norm Parts Supplies Co., Ltd. is specialized in producing fastening pieces and other norm parts supplies. Shanghai Jinrui owns Shanghai Xingrui Bolt factory and Shanghai Xingrui Wire steel factory. We have many cold-heading machines, nut machines and hot-heading machines.

Our company has certificates of ISO9001 and TS 16949, and we can manufacture fasteners in accordance with GB, DIN, ANSI, JIS, ISO and customer's requirements with favorable price.

3.Production

From raw materials to end product delivery, it has a strict control program. Accurate completion is done about wiring- roughing - annealing- pickling - drawing - heading - rolling - heat treatment -surface treatment -packaging and other aspects.  

4.Why choose Shanghai Jinrui ?

 

(1) Create value for our valuable customers

 

We always provide good quality and nice design products to meet the needs of the customers. We are the leader in this field and we always provide good products and service to our valuable customers.

 

(2) Better Quality with Lower Price

 

We always supply the better price on the same quality level, and try our best to save the client's every cent.

 

(3) Never stop developing the New Product.

 

Every year, our company will develop the new products to meet the market need.

 

(4) Manufacture & Export experts

 

As we have a favorable frame and stable quality control, our products can be found in nearly all continents. 14 years of manufacture & export experience, deliver goods by different means: truck, rail and sea containers.

 

5.FAQ:

Q1: Are you a factory or trading company?

A: We are the specialized supplier of fastener, can provide the best price.

 

Q2: How many years you do foreign trade?

A: We have more than 14 years experience in exporting products to worldwide countries; can provide the high quality fastener!

 

Q3: Do you have enough outputs?

A: We have enough stock in warehouses with abundant capital. We offer 24-hour services.

 

Q4: How to ensure that every process's quality?

A: Every process will be checked by our quality inspection department which insures every product's quality.

 

Q5: How to ensure the safety of long-distance transportation?

A: Professional packing teams which keep every packing safely.

 

Q6: Can you provide some sample?

A: Samples can be provided as your requirements. Non-standard Full Thread  Philips Screw

1.Product Parameters

 
Standard:
ASME B 18.2.1, IFI149,DIN931, DIN933, DIN558, DIN960, DIN961, DIN558, ISO4014 and etc.

Size:

standard & non-standard, spport customized
Material:
 Carbon Steel, Alloy Steel, Stainless Steel, Brass and etc.
Grade:
 SAE J429 Gr.2, 5,8; ASTM A307Gr.A, Class 4.8, 5.8, 6.8, 8.8, 10.9, 12.9 and etc.
Thread:
 UNC,UNF
Finish:
 Plain, Zinc Plated(Clear/Blue/Yellow/Black), Black oxide, Nickel, Chrome, H.D.G and etc.
Packing:
 Bulk in cartons (25kg Max.)+wood Pallet or according to customer special demand
Application:
 Structural Steel; Metal Buliding; Oil&Gas; Tower&Pole; Wind Energy; Mechanical Machine; Automobile: Home Decorating and etc.
Test Equipments:
Desktop direct- reading spectrometer, cutting machine, automatic pre- milling machine, polishing machin, hard-testing gauge(Vickers), metallography microscope, electrolytic thickness gauge, tensile testing machine, salt spray device, magnetic detection machine(magnetic particle flaw detector), Caliper, Go&No-go gauge and etc.
Supply Ability:
 2000 tons per month
MinimumOrder:
  Not limited 
Trade Term:
 FOB/CIF/CFR/CNF/EXW/DDU/DDP
Payment
 T/T, L/C , D/A  , D/P , Western Union  ,MoneyGram ,etc
Market:
South&north Amrica/Europe/East&South east Asia/ Australia and Africa etc.
Our advantage:
One-stop shopping;
High quality;
Competitive price;
Timely delivery;
Technical support;
Supply Material and Test Reports;

Notice:
 Please lets know the Size, quantity, Material or Grade, surface, If it is special and Non-standard products, please supply the Drawing or Photos or Samples to us
2..Company Information

Shanghai Jinrui Norm Parts Supplies Co., Ltd. is specialized in producing fastening pieces and other norm parts supplies. Shanghai Jinrui owns Shanghai Xingrui Bolt factory and Shanghai Xingrui Wire steel factory. We have many cold-heading machines, nut machines and hot-heading machines.

Our company has certificates of ISO9001 and TS 16949, and we can manufacture fasteners in accordance with GB, DIN, ANSI, JIS, ISO and customer's requirements with favorable price.

3.Production

From raw materials to end product delivery, it has a strict control program. Accurate completion is done about wiring- roughing - annealing- pickling - drawing - heading - rolling - heat treatment -surface treatment -packaging and other aspects.  

4.Why choose Shanghai Jinrui ?

 

(1) Create value for our valuable customers

 

We always provide good quality and nice design products to meet the needs of the customers. We are the leader in this field and we always provide good products and service to our valuable customers.

 

(2) Better Quality with Lower Price

 

We always supply the better price on the same quality level, and try our best to save the client's every cent.

 

(3) Never stop developing the New Product.

 

Every year, our company will develop the new products to meet the market need.

 

(4) Manufacture & Export experts

 

As we have a favorable frame and stable quality control, our products can be found in nearly all continents. 14 years of manufacture & export experience, deliver goods by different means: truck, rail and sea containers.

 

5.FAQ:

Q1: Are you a factory or trading company?

A: We are the specialized supplier of fastener, can provide the best price.

 

Q2: How many years you do foreign trade?

A: We have more than 14 years experience in exporting products to worldwide countries; can provide the high quality fastener!

 

Q3: Do you have enough outputs?

A: We have enough stock in warehouses with abundant capital. We offer 24-hour services.

 

Q4: How to ensure that every process's quality?

A: Every process will be checked by our quality inspection department which insures every product's quality.

 

Q5: How to ensure the safety of long-distance transportation?

A: Professional packing teams which keep every packing safely.

 

Q6: Can you provide some sample?

A: Samples can be provided as your requirements.

Male End Piece is a pipe adapter made of PA66 or PA12+30%GF, and can be with o-ring. When insert the male end piece into the Quick Connector, since the locking spring has certain elasticity, the two connectors can be connected together with the buckle fastener, and then pull back to ensure the installation in place. In this way, the quick connector will work. During maintenance and disassembly, first push in male end piece, then press locking spring end till expansion from the middle, the connector can be easily pulled out. Lubricated with SAE 30 heavy oil before re-connecting.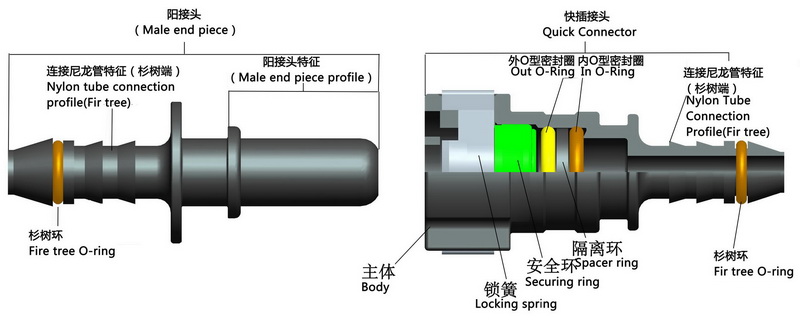 Male End Piece

Male End Pieces,Stainless Steel Male End Pieces,Carbon Steel Male End Pieces,Brass Male End Pieces

Linhai Shinyfly Auto Parts Co.,Ltd. , https://www.chinashinyfly.com