Model NO.: UP-582

Trademark: OME

Transport Package: OEM Packing

Specification: 39*27.3*160mm

Origin: China

HS Code: 9025199010

Model NO.: UP-582

Trademark: OME

Transport Package: OEM Packing

Specification: 39*27.3*160mm

Origin: China

HS Code: 9025199010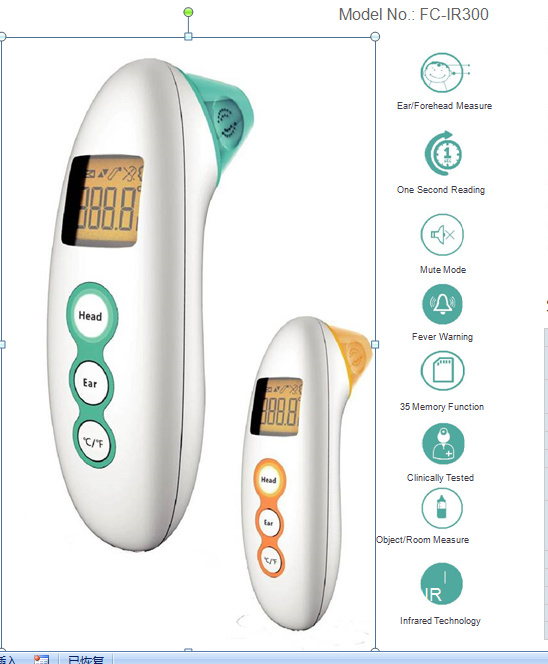 Features

 Smart and beautiful.

 Instant reading; Quick measurement, get reading in 1 second.

 Adopt the latest algorithm with optimized temperature calibration function.

 Accurate and reliable; ±0.2ºC High accuracy.

 Smart and Intelligent; One-button easy operation.

 Tri-color indicator light, display green, orange & red with fever alarm function.

 Memory function; Memory recall of 35 reading.

 Multi function design, can measure forehead/ear, room, object temperature.

 Switching between mute and un-mute.

 Switching between Fahrenheit and Celsius.

 Automatic shutdown and power saving.

 Optional function: 1. Ear probe cover.  2. Bluetooth connection.

Specifications

 
Model No.
FC-IR300
Measurement range
Ear & Forehead: 32.0°C-42.9°C (89.6°F-109.2°F)
Object: 0°C-100°C (32°F-212°F)
Measuring accuracy
Ear & Forehead mode:±0.2ºC /±0.4°F
Object mode:±1.0°C/1.8°F
Display 
LCD backlight
Automatic shutdown
10s±1s
Memory
Memory 35 groups of measured temperature.
Fever alarm
Low fever:37.4ºC<=T<=37.9ºC°(99.3°F-100.3°F)
High fever:38ºC<=T<=42.9ºC(100.4°F-109.2°F)
Operational conditions
Temperature: 10ºC-40ºC (50°F-104°F)
Humidity: 15-95%RH, non-condensing
Atmospheric pressure: 86-106 kPa
Battery
2*AAA, can be used for more than 3000 times
Weight
60.8g(without battery); 75.4g (with battery)
Product Dimension
45*53*120mm
Packing size
57*46*128MM
Full set weight
106.6g (including products / bags / instructions/ batteries)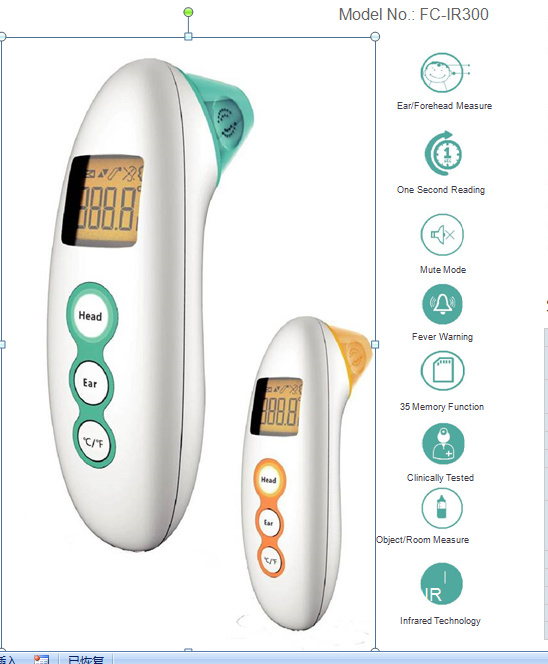 Features

 Smart and beautiful.

 Instant reading; Quick measurement, get reading in 1 second.

 Adopt the latest algorithm with optimized temperature calibration function.

 Accurate and reliable; ±0.2ºC High accuracy.

 Smart and Intelligent; One-button easy operation.

 Tri-color indicator light, display green, orange & red with fever alarm function.

 Memory function; Memory recall of 35 reading.

 Multi function design, can measure forehead/ear, room, object temperature.

 Switching between mute and un-mute.

 Switching between Fahrenheit and Celsius.

 Automatic shutdown and power saving.

 Optional function: 1. Ear probe cover.  2. Bluetooth connection.

Specifications

 
Model No.
FC-IR300
Measurement range
Ear & Forehead: 32.0°C-42.9°C (89.6°F-109.2°F)
Object: 0°C-100°C (32°F-212°F)
Measuring accuracy
Ear & Forehead mode:±0.2ºC /±0.4°F
Object mode:±1.0°C/1.8°F
Display 
LCD backlight
Automatic shutdown
10s±1s
Memory
Memory 35 groups of measured temperature.
Fever alarm
Low fever:37.4ºC<=T<=37.9ºC°(99.3°F-100.3°F)
High fever:38ºC<=T<=42.9ºC(100.4°F-109.2°F)
Operational conditions
Temperature: 10ºC-40ºC (50°F-104°F)
Humidity: 15-95%RH, non-condensing
Atmospheric pressure: 86-106 kPa
Battery
2*AAA, can be used for more than 3000 times
Weight
60.8g(without battery); 75.4g (with battery)
Product Dimension
45*53*120mm
Packing size
57*46*128MM
Full set weight
106.6g (including products / bags / instructions/ batteries)
Lamp Part Series
1. Aluminum Lamp part series.
2. With high performance.
3. Different surface treatment. 4. ISO9001:2008 certification.
5. Improve the life of Lamp and Protect the light source.
6. Aluminum Die Casting suitable for communications, auto parts, lamp part series, Water Pump Part Series, Power Tool Series, radiator part series, anti-static flooring products and Other Series Products.


Lamp part series inspection:
Inspection: in-house and third party
All the lamp part series are strictly inspected by operator and skilled QC with record put down.
Universal inspection tools: hardness tester, Height ruler, Depth ruler, Outside ruler, Venire Caliper, etc.
| | |
| --- | --- |
| | |
| Spectrum analyzer | CMM |
Best service:
1, Good communication with every of our customer, especially willing to discuss the details of your drawings.
2, On time delivery to guarantee.
3, High quality lamp part series with a reasonable price.


Our Advantage
(1)Ten years of experience in manufacturing and exporting lamp part series.
(2) OEM and custom-made service for lamp part series.
(3) All kinds of castings can be manufactured according to drawing, sample or specific industry standard.
(4)Strong engineering team makes high quality
(5) The coordinated service (casting, machining and surface treatment) make lower price possible.
(6) Advanced-level equipments.
(7) Full material testing process and quality control system.
(8) Lamp part series quality warranty and on time delivery.




If you are interested, please contact us to talk about the details for lamp part series. You need to send us your drawing or sample to make mold first. Then we quote you price, if price accepted, we will open mold for you and send you sample before mass production.




Lamp Part Series

Aluminum Die Casting,Die Casting Lamp Mould,Die Casting LED-Light,Die Casting Lamp Part

Ningbo Bowei Mould Metal Products Co., Ltd , http://en.bwmjyz.com