Model NO.: 350ZJR

Impeller: Closed

Usage: Pump

OEM: Accetablpe

Certificate: CE, SGS, ISO9001

Flow: 1200-3000 M3/H

Discharge Size: 14 Inches

Suction Size: 16 Inches

Head: 11-42 M

Color: Blue, Red, Yellow, Green, Arange, Purple, Gray, Bl

Power: Motor or Diesel

Material: R08, R24, R33, R38, R55, R66, U01, EPDM, PU, Cr...

Seal Type: Gland Packing, Expeller, Mechanical, Dynamic Seal.

Trademark: Naipu

Specification: CE, SGS, ISO9001

Origin: China

HS Code: 8413909990

ZJ(R) Single Stage Double Casing Slurry Pump

 

1. Centrifugal Slurry Pump 

 

The centrifugal slurry pump utilises the centrifugal force generated by a rotating impeller to impart energy to the slurry in the same manner as clear liquid type centrifugal pumps. Slurry pumps need much wider and heavier impellers to accommodate the passage of large particles. They also be constructed in special materials to withstand the internal wear caused by the solids.

 

ZJ(R) slurry pumps are suitable for pumping slurry with hard particles and in high density in industrial sectors.  Which with good impeller size and design, its ease of maintenance, the type of shaft seal to be used and the choice of the optimum materials withstand wear caused by the abrasive, erosive and often corrosive attack on the materials. They can also be applied Multi-staged in series.

 

ZJ(R) pumps are those of cantilever, horizontal and centrifugal ones, whose shafts can be sealed by packing seals or by centrifugal type seals. The positions of the pump outlet can be positioned at an interval of 45°according to different requirements,so eight different angles can be applied by rotation in installation.

 

2. Pump Performance Parameters

 

ZJR Slurry pump parameters
Type

Allowable
 Mating 
Max. Power
(Kw)

Clear Water Performance
Impeller
Capacity/
Q m³/hr
Head/m
Speed/rpm

Max 
Efficiency
/%

NPSH/m
Nos
 of 
Vane
Diameter
/mm
25ZJR
15
10.8-25.2
7-52
1400-3400
35
2-4
3
152
40ZJR
15
25.2-54
5.5-41
1000-2600
50
2.5-5
5
178
50ZJR
30
36-75.6
13-39
1300-2100
55
2-4
5
213
75ZJR
30
79.2-180
5-34.5
800-1800
59
3-5
5
245
100ZJR
60
144-324
12-45
800-1350
65
3-5
5
365
150ZJR
300
324-720
7-49
400-1000
65
5-10
5
510
200ZJR
560
540-1188
12-50
400-750
75
4-12
5
686
250ZJR
560
720-1620
7-45
300-650
80
2.5-7.5
5
762
200ZJR
560
1152-2520
13-44
300-500
79
3-8
5
965
350ZJR
1200
1200-3000
11-42
250-450
82
4-9
5
1067
450ZJR
1200
1800-4000
12-44
200-350
82
5-10
5

1370
 

3. Pump Main Part Number At The Drawing and material
032: Frame Plate
060: Intake Joint
132: Discharge Joint
083:Â Throatbush
110: Volute Liner
147:Â Impeller
122: Stuffing Box Seal
036: Frame Plate Liner
013: Cover Plate
018: Cover Plate Liner
124: Volute Liner Seal
041: Frame Plate Liner Insert


LINERS
IMPELLERS
CASING
BASE
EXPELLER
EXPELLERÂ RING
SHAFTÂ SLEEVE
SEALS
Standard
Chrome Alloy
Natural Rubber
Chrome Alloy
Natural Rubber
SGÂ Iron
SGÂ Iron
Chrome Alloy
or
SGÂ Iron
Chrome Alloy
or
SGÂ Iron
SGÂ Iron
Rubber
and
Nitrile
Options
Ferralium
Hastelloy C
316Â SS
W151
Polyurethane
Neoprene
Butyl
Viton
Nitrile
EPDM
Hypalon
Ferralium
Hastelloy C
316Â SS
W151
Polyurethane
Neoprene
Butyl
Nitrile
Hypalon
SGÂ Iron
Various grades
MS
Fabricated
Cast Iron
NIÂ Resist
Ferralium
Hastelloy C
Polyurethane
316Â SS
W151
NIÂ Resist
Ferralium
Hastelloy C
316Â SS
Rubber
W151
Polyurethane
Neoprene
Butyl
Nitrile
EN56C
Ferralium
Hastelloy C
Titanium
316Â SS
304Â SS
Ceramic
Stellite
Chrome Oxide
Nordel
Neoprene
Vito
4. Slurry Pump Spare Parts

Naipu Slurry pump and standard spare parts with high anti-abrosive can be supply with huge amount within a short period. Impeller, Casing, shaft, throat bush, wear plate, case, cover, stuffing box, lantern restrictor, cover plate bolt, volute, throat bush, shaft sleeve, cover plate liner,  frame plate liner...

1) Material: A05, A07, A33, A49, A61, W1, W2, NA, Cr15, Mo3, Cr24, Cr26, Cr27, Cr30, R08, R24, R26, R33, R38, R66, EPDM, PU, CR...

2) Shaft material: 45#, 40Cr, SS304, SS315...

3) Shaft sleeve material: 3Cr13, 4Cr13, SS304, SS316...

4) Lantern ring material: 304, 316, Â PTFE, Cu...

5) Bearing housing/ bearing end cover material: G01, D21...

 

Katherine     

Tel: +86-311-83802338      URL: www.naipump.com   

Auto Meat Strips Processing Line is latest design of Darin, which could produce pet snacks, suitable for pet food without casing directly baked meat and meat products, widely used in pet food article beef, article chicken, beef rod, chicken rod production and processing.

1, It is first processing line to produce meat snacks automatically and continuously.

2, The diameter and shape of meat strips can be various by changing the molds.

3, Fully controlled by PLC and touch screen to reduce the labor cost, 2-3 workers are needed to operate the whole line.

4, The characteristics is discharging speed, output evenly, can infuse bowel flesh lump, can also be used to fill the mi bowel, flexible, convenient and free loading, high efficiency, continuous production capacity, and cleaning convenient, suitable for various types of production enterprises.

5, The equipment is made from high quality 304 stainless steel, corrosion resistance, with high quality in intensity, reliable and durable, convenient cleaning, adopt gear two-way extrusion type structure, with high pressure, rotation smoothly.

6, Equipped with Auto Tray Loading System to feed the tray to load the meat strip automatically.



7, Safely cutting system to ensure the worker's safety, also same size of meat strips.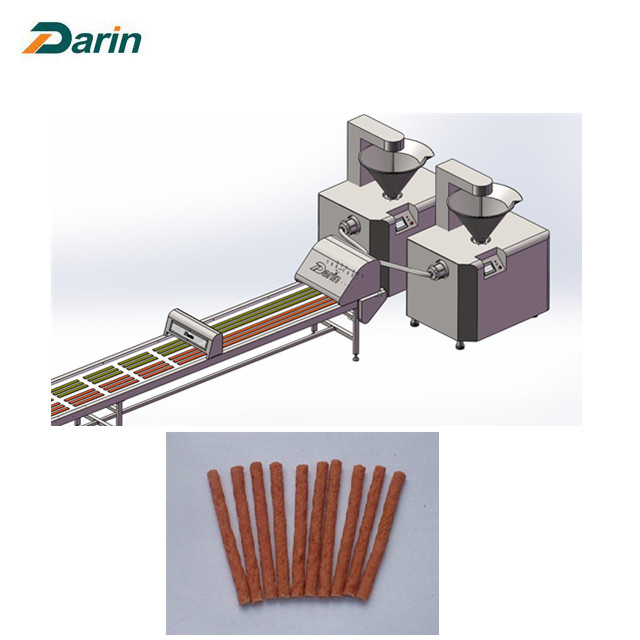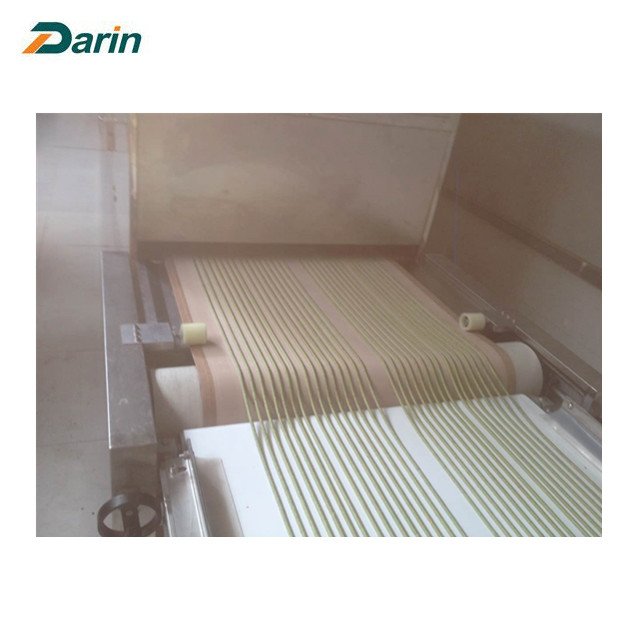 Auto Meat Strip Processing Line

Jerky Treats Stick Machine,Auto Meat Strip Processing Line,Meat Stick Making Machine,Dog Chewing Stick Machine

Jinan Darin Machinery Co., Ltd. , https://www.globaldarin.com